Récompenses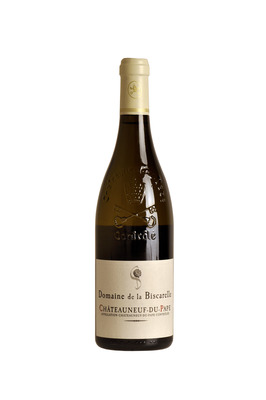 2009 Domaine de la Biscarelle Châteauneuf du Pape
Review by Robert Parker
Wine Advocate # 191 (Oct 2010)
Rating: (89-91)
Drink 2010 – 2017
The 2009 Chateauneuf du Pape, which comes from two fabulous terroirs (Palestor and Maucoil), is a blend of 90% Grenache and the rest Syrah, Mourvedre, Cinsault, Counoise and Terret Noir. Aromas of sweet black cherry and black currant fruit along with hints of roasted herbs and forest floor emerge from this elegant, medium to full-bodied wine. Tasting like a concentrated, ripe Pinot Noir, it is an intriguing, delicious, already complex, endearing Chateauneuf to consume over the next 5-7 years. (Not yet released) These are two sleeper selections from proprietor Jerome Grieco. Both are aged completely in cement tanks.
Importer: United States Wine Imports, Columbus, OH
2009 Domaine de la Biscarelle Chateauneuf du Pape les Anglaises
Review by Robert Parker
Wine Advocate # 191 (Oct 2010)
Rating: (91-93)
Drink 2010 – 2011
The 2009 Chateauneuf du Pape Les Anglaises is composed of 80% Grenache, 15% Mourvedre and the rest Syrah and Cinsault, all aged in cement tanks. Even denser than the regular bottling, with the same elegance and precision, it exhibits fresh, pure notes of kirsch, raspberries, Provencal herbs, loamy soil and pepper. It is a full-bodied, deep, concentrated, beautifully balanced effort with sweet, silky tannins as well as abundant glycerin. Enjoy it over the next decade. (Not yet released) These are two sleeper selections from proprietor Jerome Grieco. Both are aged completely in cement tanks.
Importer: United States Wine Imports, Columbus, OH
JANCIS ROBINSON
Dom de la Biscarelle 2009 Châteauneuf-du-Pape 17 Drink 2013-2020
A new producer, Jérôme Greico, with some old vines apparently. Bright crimson. Tarry nose and then smoothly polished palate (no oak). Very far from the rustic, paysan style of Châteauneuf! An attractive drink with some unusual sophistication.
Dom de la Biscarelle, Les Anglaises 2009 Châteauneuf-du-Pape 18 Drink 2015-2024
Dark crimson with lots of viscosity. Savoury, herbal (dried grasses?) attention-grabbing nose. Very sweet and rich with salty treacle edges to it on the palate. Well integrated and balanced. Very neat and self-contained.
guide rouge de la RVF 2011:
chateauneuf du pape"les anglaises" note de 15/20 et le commentaire suivant:
antoine gerbelle:il cultive un bon fruit tout en restant sol…ide en tanins(vendanges entières) et chaleureux.Annonceune année tout en puissance
cleveland magazine:
Stop Vin | | Essayez le rare, le français importées Domaine de la Biscarelle. "Vous pouvez vraiment le goût d'où il vient», explique le propriétaire Matthew Mathlage. La viscosité fruité de ce vin rouge équilibré et conserve des relents de la vallée du Rhône épaisse couche d'argile et va bien avec du porc et des steaks.
GUIDE ROUGE RVF 2013 :
CHATEAUNEUF DU PAPE 2010 16/20 :
Plein de fruit, il éclate de fraicheur dans ses notes florales délicates , sans rien céder en structure avec ses tanins persistants issus d'une vendange entière vinifiée et élevée en cuves béton.excellent rapport prix/plaisir.Faites vite , les prix vont forcément monter! (antoine gerbelle)
LE MONDE (septembre 2012)
16/20 A déguster lors de grandes occasions CHATEAUNEUF DU PAPE 2010
LE FIGARO 03/01/2012 par ENRICO BERNARDO MEILLEUR SOMMELIER DU MONDE 2004 : CHATEAUNEUF DU PAPE "LES ANGLAISES" 2009
"A l'oeil,une jolie teinte rubis avec des reflets cerise et une belle limpidité.
Le nez s'exprime immédiatement et généreusement à travers des arômes d'une grande fraicheur :griotte, laurier,thym…En bouche , une impression de soyeux, une sensation riche et voluptueuse,avec une structure à la fois subtile et bien affirmée.
LA DECOUVERTE DE L'ANNEE RVF : Domaine de La Biscarelle
TROPHÉES DU VIN 2013. Au domaine de La Biscarelle, Christelle et Jérôme Grieco produisent des vins rouges de caractère, dont une perle, Les Anglaises, qui n'est pas sans rappeler la dentelle de Château Rayas.
revue du vin de france :
GUIDE ROUGE 2014= 15,5/20"la bouche est dense avec un poil de sucrosité .on reste dans l'esprit entier et solide du grenache"